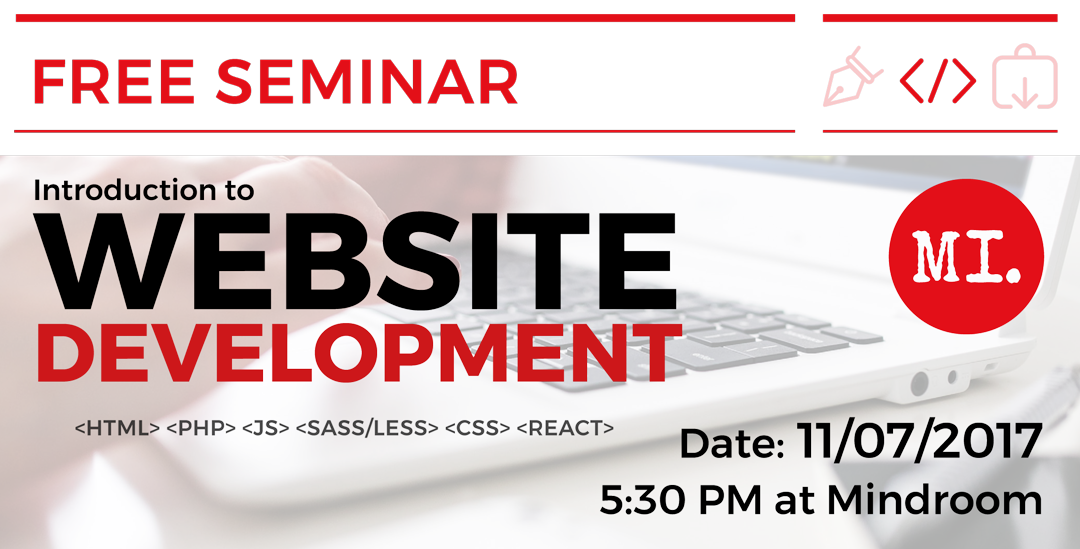 Introduction to Website Development
This seminar is designed to brief you about study pathways within the area of Website Development. No matter what your area of expertise or extent of experience or knowledge within the web development arena, there is something you will be able to take away from this seminar. On a daily basis we visit thousands of websites that provide us with entertainment, knowledge, promote a business or help us carry out our own tasks and responsibilities.
Have you ever wondered how these websites are built? How does the system work? What supports the website? How are devices connected? And more specifically, what skills do you need to build a website?
There are multiple ways of addressing the questions above and in the seminar we will cover some of the basics which will provide you with a better understanding of the internet and website development.
It will explain the structure and the functionality of the World Wide Web (www), a basic explanation of website development languages, such as HTML, CSS and JavaScript and how to select an appropriate web hosting service for your type of business/site.
If you would be interested in furthering your knowledge through our Diploma of Website Development, by the end of the course you would be able to  read and apply different programming language concepts, install and setup a server, select the appropriate web hosting, and publishing webpages for the world to see. Furthermore, you would also be able to develop a working model for creating websites and be ready to work in this rapidly expanding industry.
Finally you would learn how to deliver different websites, including personal and business sites developed during classes. With enhance skills and knowledge, this course will prepare you to take the next step in a more advanced web development, web design or development specialisation and career.
When: Tuesday, 11th July at 5:30 PM
Where: Mindroom Innovation – 1/37 Connor Street, Burleigh Heads, 4220, QLD
ABOUT THE PRESENTER
Pedro Giesel is a Website Developer and Trainer, graduated in System Analyses and Development, from UDESC, Pedro has been working on a few different projects, since 2004 he has developed over than 100 websites. His knowledge of work include, but not limited to: WordPress, Moodle, OpenCart, CSS, JS, PHP, HTML5, Joomla, SAP, Oracle, SQL and a few more technologies.
THE LEARNING EXPERIENCE
A fun-filled, interactive evening that is all about creativity, innovation and history of Website Development:
History of Internet
History of Website Development
Phases of Website Development Project
Content Management Systems
Hosting service
IMPORTANT DETAILS
What's included:
A 1 hour-seminar
Light refreshments and soft drinks
What to bring:
Open mind
Your creative hat
Suitable for:
International students
Employees
Employers
Business owners
Contractors
COST
TO BOOK
Just register in the form below:
[captainform id="810310″]